The jewelry trend for 2011?  Large and in-charge!  Layered chains in varying metallic hues and textures… the trendy looks of the season are certainly dazzling!  But, as always, timing is everything.  The price of precious metals is sky-high, forcing many jewelry lovers to shelve out-of-style precious pieces and wear costume jewelry to stay on-trend.
The funny thing, however, is that costume jewelry can be expensive too!  So, before you sink too much cash into a trendy piece, be strategic.  You can update grandma's genuine pearls for less money, and be wearing the real deal while your friends are all wearing plastic!
Pearls are delicate and dainty, and a classic 18-inch strand can be made rocker-chic tough simply by adding a masculine stainless-steel chain.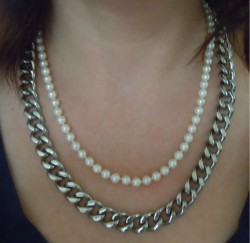 The 22″ stainless steel chain I added to the pearl strand was purchased from Amazon.com, and retails for $24.  Click HERE to buy the Men's Stainless Steel Chain Necklace from Amazon.com

.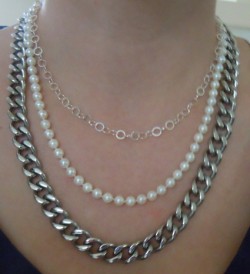 Sterling silver has also increased in price, but is still affordable enough to use for layering.  It also has the benefit of possibly increasing in value in the future!  The dainty chain-link sterling necklace I layered in the image above is also from Amazon.com.  Retail price is $16. Click HERE to buy the Sterling Silver Flat Circle-Link Chain Necklace, 16″ from Amazon.com

.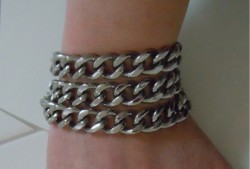 Looking for versatility?  The men's stainless-steel chain also doubles as a super-chic triple-wrapped bracelet!